Inspiration
I make up lots and lots of stories, and I illustrate them using a variety of materials.
It all started with my grandmothers. They lived within a few blocks of each other in a quaint, lovely Texas town called Navasota. Navasota was my childhood haven from the craze and commotion of the big city, and it is still home to much of my family on my father's side.
Grammer, my paternal grandmother
Rumplestiltskein spun straw into gold, yet even he would have been envious of Grammer, my grandmother on my father's side. Her knack for creating practical and unusually attractive folk art gifts was not unlike the fabled creature's talents. Grammer introduced me to the art of decoupage. She made a wine rack and a family tree picture that my mother has to this day.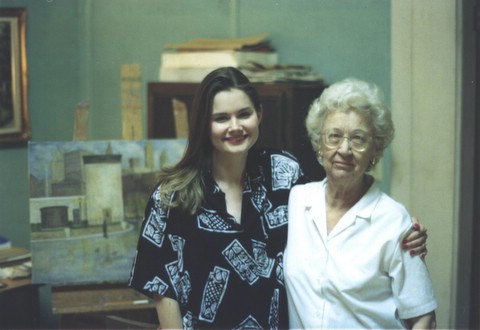 I had a lap board when I was young that Grammer made by using images cut from a French themed wallpaper. My earliest drawings were drafted upon the generous, cheery surface of that board. Sadly, it did not last into my adult years, but I am certain I would still be using it for I have yet to find one with a comparable sized writing surface and comfortable, lap-hugging shape.
Grammer also had a knack for creative storage solutions which attracted curious children who tended to attribute magical significance to the otherwise mundane. She tucked tin soldiers and metal cars salvaged from my uncles' prized boyhood collections into a small, dark drum table that stood in the foyer. It was as if a spell had been cast upon it for no child could resist lifting the lid of that drum table to peer inside at the little men and vehicles within it.
Hers was the first house I'd seen with Dutch doors. Those doors which are divided so that the top portion can be latched open to allow in the breeze while the bottom is closed for security. Most of her eleven grandchildren scaled those doors at some point during the various family gatherings. We could get away with the door vaulting once or twice before some adult family member would intervene and redirect our fun to something less thunderous and architecturally damaging. Sometimes I still feel the childish urge to scramble over the bottom half of such a latched door. Grammer had two sets of Dutch doors leading onto her screened porch at the back of the house. The aroma of wild plums would waft through the screens when the fruit was in season. Whenever I came for a visit, she would bring out the cigar box filled with crayons and a tablet of drawing paper. I'd wile away the hours sitting in the porch swing while coloring pictures and making up stories to go with them.
It was Grammer whom I believe to be responsible for the inherited tendency of mine to come up with ideas that leave other people's looking mystified and asking, "Where on earth or beyond you come up with that one?" She had a way of transforming the ordinary into a coveted heirloom. I've employed that tendency every October when the urge to combine the creative and the unusual hits me the strongest. There is just something fascinating about the combination of masquerade and confection in Halloween that energizes my creative drive. I'm sure Grammer would agree with me.
Nana, my maternal grandmother
Some souls possess the ability to manifest dreams into reality. They alter their spaces into something lovely and lasting by using the cast off's of others. Transforming that which was deemed without potential into the extraordinary. My maternal grandmother was such a soul.
I struggle to find the words to describe her and the life she shared with me. It was so much easier to live and bask in the moment within her realm than to recall it and describe it here….but I will try. Whenever I was fortunate enough to spend time with my grandparents, Alexine and D. K. Nowlin, in Navasota, Texas– especially the lengthy Summer overnight stays, Alexine or Nana (how I called her) would take me to work with her at her beauty shop in town. The shop building was an old house with a porch that ran across the front. One section of the place comprised the beauty shop and the other section (when she wasn't renting it out) was a studio apartment in which we spent hours (sometimes well late into the evening) painting together. Nana was an impressionist who used oil paints to convey local scenes which she had previously captured on film. She began her hobby cum career later in life but for her it held true that life was not chopped up into sections of age milestones or even little achievements here and there. Nana just seemed to progress along some mysterious natural course which was hers alone and yet fascinating (and at times bewildering) for the observer to track.
I learned only recently that she drew the plans for her home and went to the construction site every day during her lunch break to oversee the work. Her home was one of the G.I. houses constructed following World War II; my grandfather was a Marine who served in the Pacific.Nana designed the small mason stone house and my grandfather built the addition across the back of it. We called the addition the "back porch" but it ran the entire length of the house. The addition formed a rectangle with as large a footprint as the original house. There were crank windows running the length of the rectangle above the chair-rail height planks comprising the walls. But it was the overhead beams which were stained and sealed in a dark walnut which held my imagination. When I slept on the big feather bed out there under those beams, I would gaze up at the hanging lanterns suspended from the ceiling and find myself in the hull of a great sailing vessel upon some ancient and perilous voyage.
Bookshelves lined the wall nearest the bed. One end of the room was used as a guest room of a sort while the other served as a small office and den. Just where the bookshelves ended enough wall space remained by the doorway leading into the main part of the house to hold two paintings both of which featured heavily in my dreams (pertaining to the voyages to far off places). The subjects of the two paintings were portraits inspired by some photographs from National Geographic magazine. One gentleman was an Englishman dressed in safari gear and the other gentleman was an African tribesman with a bone through his nose. Both had amazing eyes which always seemed to be trained upon me and gave them the appearance of hanging upon the unspoken thoughts and images in my head. I was never frightened of them. They were co-conspirators in my dreams.
The walls of the house were painted mason stone and the floors were tiled which made for cold Winters and hot Summers as there was no central air conditioning. In Summer, fans were used when the heat became stifling, and the windows were cranked open to invite in the breeze. Space heaters were switched on to ward off the chill of Winter nights and extra family-made quilts (some a hundred years old or more) were piled onto the beds. It was customary to read books well into the night so reading lamps were almost always lit in someone's room no matter what the hour. One was never chastised for this indulgence.
That house could have stood on a lone stretch of moor in Great Britain, or perhaps in a field of poppies in Europe, or tucked away among the massive trunks of trees, fern, and primrose in the very heart of Fairyland, just as easily as where it stood in that small Texas town. The house was a gateway to the far and wide, and my grandmother was its keeper. She filled it with antiques (my favorite being the old riverboat trunk which features in a wistful desire I have that it one day be discovered by my grandchildren who will come upon it by chance and in secret open it to be thrilled by the offbeat, sundry forgotten items within it….perhaps on some rainy day in June…), family heirlooms of quilts and bric-a-brac, old photographs, her paintings, and the treasures for which she scrimped and saved – her chests of silver, china, collector dolls (including a Madame Alexander of Queen Elizabeth II), and jewels.
In addition to her other talents, Nana sewed exquisite costumes for plays, parties, and holidays. She made doll clothes the likes of which even Sara Crewe of The Little Princess would have been impressed. I learned to sew on her Singer (foot pedal cast iron variety) sewing machine. More often than not, the thread was hundred-year-old spun cotton and was at times so fragile that it would break under the stress of the needle. The fabric and the accessories would often be well-preserved pieces from bygone eras, as well. Nana tended to select her materials from the storehouse of time and whatever she chose obeyed her will which she exacted upon it. There was nothing too old or too new. It was only a matter of knowing what she wanted as an end result. If the plan were clear, the product would manifest to her expectations and to the delight of others.
I played dress-up in some of my mother's prom dresses and evening gowns designed and sewn by Nana. In childhood's trance, my friends and I (attired in such finery) would wander the back garden and make mischief and have adventures. There was the time I made that pirate's treasure map and attempted to bury Nana's tapestry-covered jewelry box (with the solemn promise of digging it up later and restoring it to its proper place on her dressing table). It was no mean feat to dig a hole while wearing a ball gown on a sweltering August afternoon even with the encouragement of friends; however, Nana redirected us with treats and cold drinks and quietly stole away with her box (and shovel) while we were distracted. It was a fair trade.
And when I spent time with her at work at her shop, I loved the back room because that's where the coke machine stood. It was a squat cube painted a brilliant red. A metal creation of yesteryear. The hinged lid had to be lifted and a glass bottle of soda removed from one of the cylinders in which many rested in the main cooling canister. It was my job to fill the machine with those bottles when it ran empty. There was a coin slot in front and under the slot there was a pull-out tray which held sheets of waxed parchment pages which kept the icy bottle from chilling the hands. Nana used to pay me a quarter to wash and sterilize the hair brushes and hair rollers as well. I used the money to buy candy from the convenient store on the corner near the shop. Jolly rancher fiery cinnamon sticks and green apple (not the tiny variety but the original long wands), rich chocolate candy bars, and jaw breakers.
And on the best days, she took me to Elliot's in town. Elliot's was a pharmacy and soda fountain, an old fashioned drug store. It's gone now. Closed its doors. But, I can still taste that sundae. The marshmallow topping was rich, molten without one trace of foaminess. It cascaded over the ice cream in purest vanilla and capped whatever sauce lay beneath. Hot fudge or homemade strawberry sauces were my favorites. Always topped with a red candied cherry. Always a sprinkling of finely chopped nuts. The locals would gather in one of the booths for coffee and conversation. I would devour my sundae while Nana enjoyed the company of friends.
Over the sundae, I would tell Nana my plans for stories or paintings or whatever creative project and she would always come up with the raw materials and the wise advice needed to make the project a reality. Both my grandmothers were true genies who granted…a bit of canvas. A bit of paint. A bit of fabric. Some paper. A guiding hand. An audience. At the ready. Always.
Grammer passed away when I was in high school. Nana lived to be in her nineties but she passed away shortly before Hurricane Rita made landfall in the Sabine Pass. I know they are still creatively influencing the lives and places around them and hope our paths cross again one day. But for here and now, it's my turn to continue their legacies. For my children….for anyone else needing that gentle nudge or a scrap of something just right…..I'm at the ready. Always.