The Sky Egg
Welcome to The Sky Egg, a creative site for children of all ages!
The Guardians of Skylark
The Guardians of Skylark is the first novel in a series of four books. The books chronicle the lives of Middle Schooler Wynna Stewart and her friends. Explore the mysterious past of Skylark's former days as the home of a European travelling circus. Follow Wynna and her friends into the shadows and trailblaze paths through the woods of Aberdale, Virginia. There are always homes available in Skylark for kindred spirits and inventive minds! Look for the second book in the series, Chasing Shadows in Skylark, in Fall 2009!
SKYLARK ASSOCIATION OF ABERDALE, VIRGINIA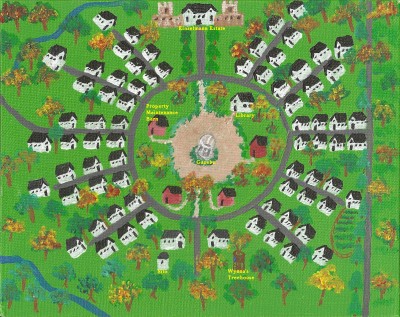 Welcome to Skylark, a neighborhood sited just outside of the Aberdale, Virginia city limits. Nestled in the dense woods of Virginia, our community is an ever- evolving network of families with an entrepreneurial spirit. Skylark was once the vast estate of the late Heinrich Einselmann,owner of the internationally acclaimed Einselmann Travelling Circus. Einselmann's daughter, Eva, sold the estate to a home developer who divided the property into residential plats while preserving the historic features of the old estate. Many of the original buildings remain such as the barns in the common area and the estate manor.
SKYLARK SENTINEL
SKYLARK SENTINEL is Skylark Homeowner Association's monthly newsletter. The newsletter is available via the association website and as a hard copy at a cost of $2 per issue. For those interested in hard copies please contact Di Williams, SABD Secretary, at diwilliams@skyegg.com
Skylark Community Highlights
Library-in-the-Commons
Skylark Saturday
Wynna's Treehouse
A Virtual Tour of Skylark